Michael Jackson's Disturbing Pornography Collection : Child Pornographic Collection, detailed in newly released police reports
Jackson was acquitted of allegedly molesting then 13-year-old Gavin Arvizo in 2005. The "Thriller" singer died of cardiac arrested in 2009.
In 2003, police raided Neverland Ranch while investigating charges of child molestation that had been brought against Michael Jackson. Jackson was acquitted in 2005—but now, seven years after the late pop star's death, a newly surfaced police report details what Santa Barbara County Sheriff's Department found during their raid: a disturbing collection of pornography that included images of children's faces superimposed on adult bodies, as well as materials police said can be used to de-sensitize young children in order to groom them for future abuse.

Radar Online obtained the documents, which contain description and pictures from various books and magazines found in Jackson's secluded California home.

Many of the materials contain nude young adults and adolescents, and many were described as consistent with the type of material that can be used to lower young victims' inhibitions. Some of the materials centered on S&M, and Radar Online also describes images of animal torture and gore.

The police investigation began in 2003, when the singer faced accusations of child molestation and intoxication of a minor after Gavin Arvizo, then 13 years old, came forward. From all of the charges combined, Jackson could have served 20 years in prison—but he was acquitted in 2005, and died four years later from cardiac arrest.

Vanity Fair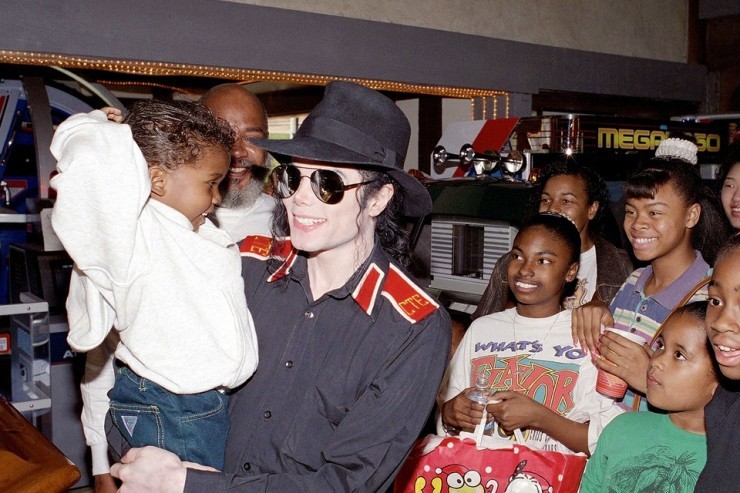 [ MJ hosting the party for Inter-City Children, 1994 ]

Jackson was a pop singer/songwriter whose fame began with the Jackson 5 alongside his brothers. He later went on to have a successful solo career and died in 2009 from a medication overdose.
His physician was later convicted of involuntary manslaughter.
A representative from the Santa Barbara County Sheriff's Department gave Vanity Fair the following statement regarding the documents:
Some of the documents appear to be copies of reports that wereauthored by Sheriff's Office personnel as well as evidentiaryphotographs taken by Sheriff's Office personnel interspersed withcontent that appears to be obtained off the Internet or throughunknown sources. The Sheriff's Office did not release any of thedocuments and/or photographs to the media. The Sheriff's Officereleased all of its reports and the photographs as part of therequired discovery process to the prosecution and the defense.
Michael Jackson
MJ Pornography Collection
Disturbing Pornography Collection
Child Pornographic Collection MJ